This year has indeed brought many unexpected hard times. Collaborating with likeminded women will help you to feel empowered, inspired and cultivate your own gifts. As a result when you are able to find women that beam light and love you soar even amore.
Today, I am excited to share with you a feature Collaboration Over Competition with Kin by Kristine! Each influencer brings a unique style and take on a new set launched by the company.
First up the CEO of Kin by Kristine – Trendy Curvy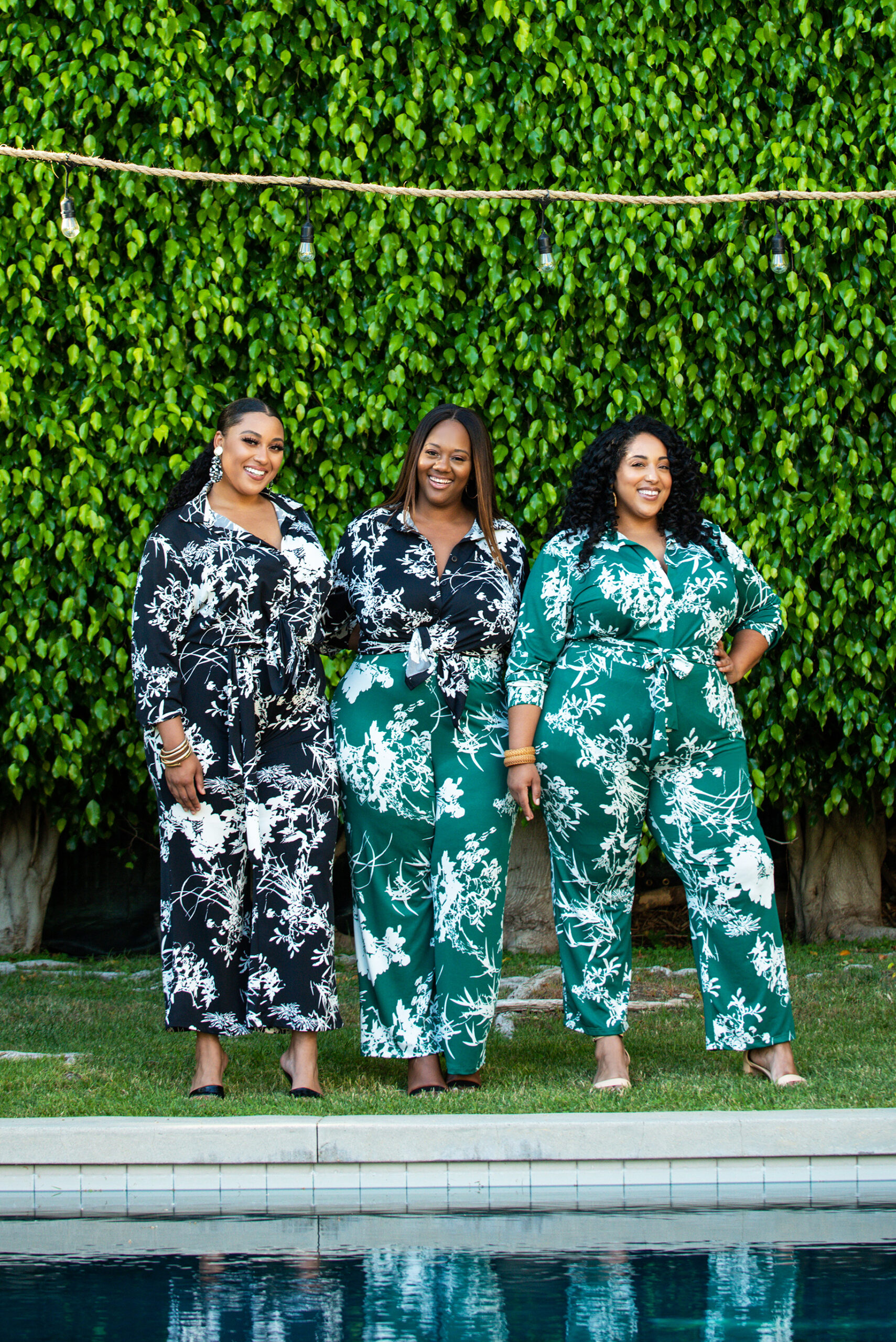 One of the reasons that I created this set is because of how versatile it can be. You can mix and match, dress it up or down. I've always loved prints and playing around with them to create my looks. I thought it would be chic and a little unexpected to wear the same print in two different colors. The fact that the same print brings the outfit together but allows me to put my own flair on it. Life is too short for your outfits to be boring. Stand out, be different and show off your personality!"
Next up we have Mallory B. Richardson –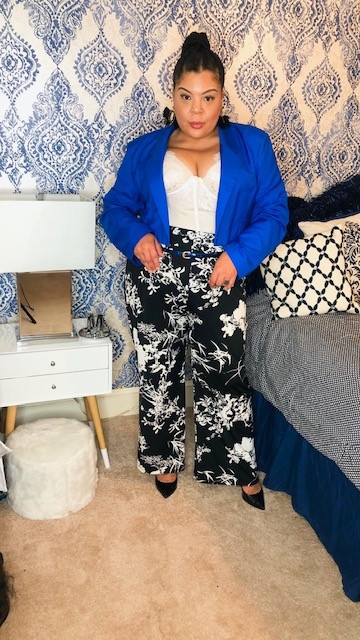 This amazing pair of Black Printed Wide Leg pants by Kin were styled alongside a Cropped Cobalt blazer and sexy white lace corset.  To add additional flair and class I coupled the set with a complimenting cobalt belt, tassel earrings and classic black pump.  This look is made for the curvy fashionista out to a brand brunch, happy hour with her friends or a cute date with a new boo.  The look is chic, classy with a street/professional appeal. It is comfortable and made for any style maven on the run. I am true size one but opted to purchase a 2 since this was my first time purchasing. Next go round I can stick to a size 1 for all future purchases.
Next is the amazing Britta Borden-Tabor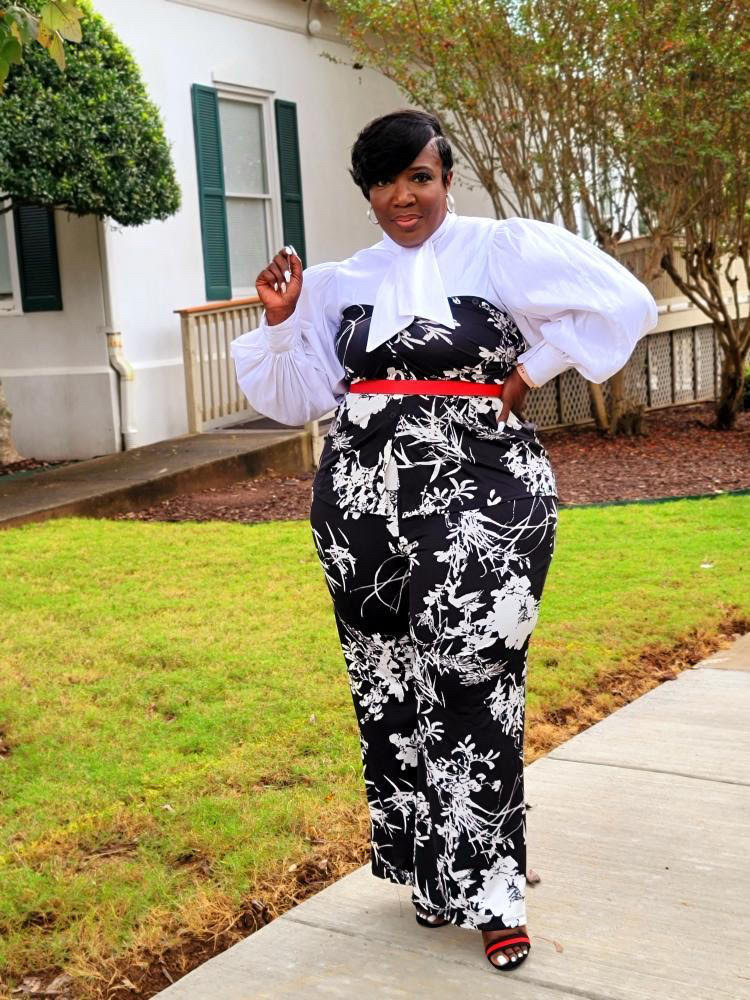 When it comes to plus size fashion you have brands that are heavy hitters. However you also have the hidden gems that are making their mark in the plus size industry. One fairly new brand that's offering some CRVY CUTENESS is KIN by Kristine. Her curvy and trendy clothing are items that women could feel confident in, that enhances their curves, and that are timeless. I recently purchased the black and white printed paradise button down top (size 2: 16-18) and wide leg pants (size 3: 20-22). The material is flattering and soft. It flows very nicely and has GREAT curve appeal. The versatility will allow you to create multiple looks that you can dress up or down in any season. Job well done to the KIN KREW! Can't wait to add more from this collection.
Now, here is the ShawanaV take on this outfit!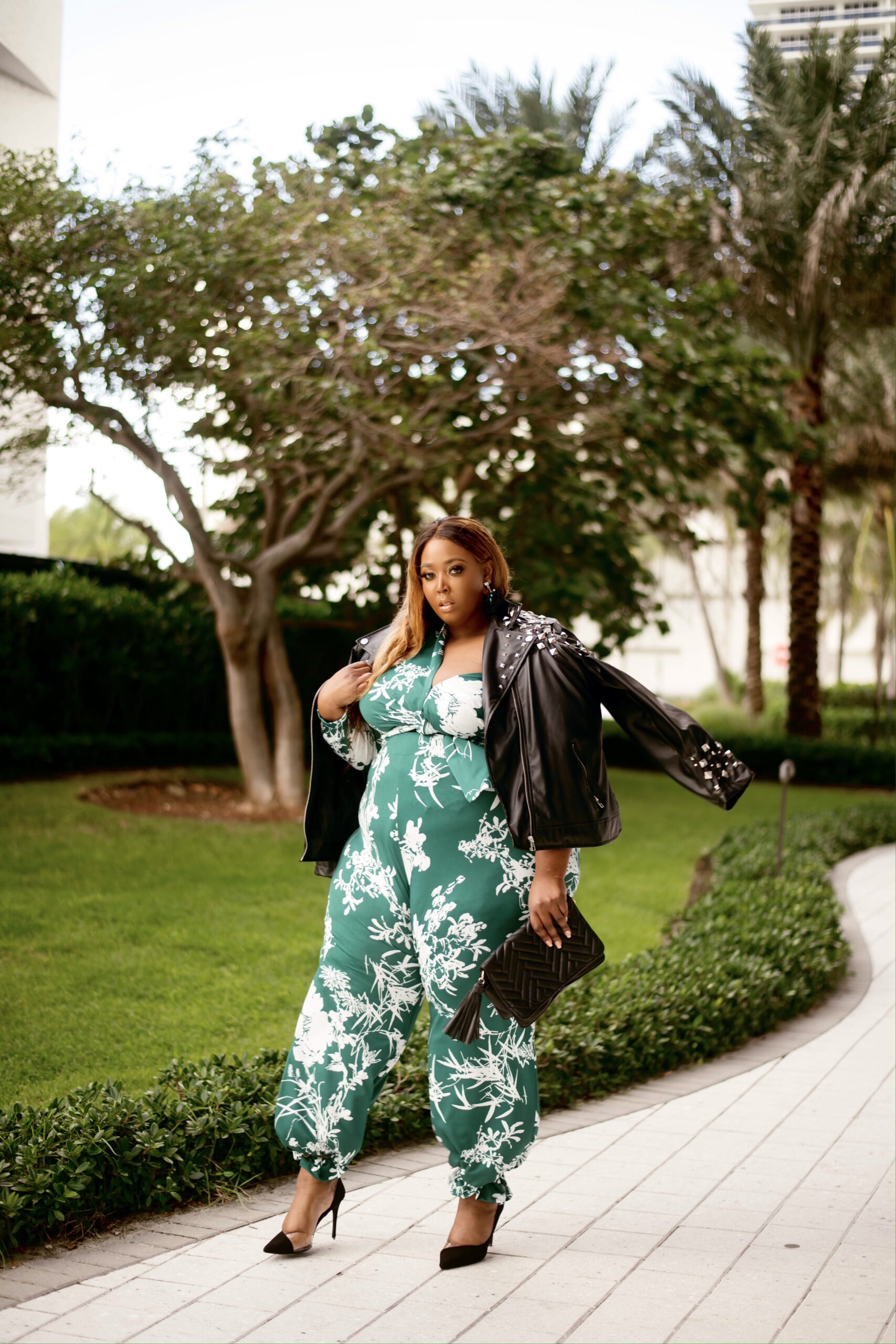 When it comes to my style I love to make a statement. Being creative and saving coins is a big win for me. There are so many ways to style this shirt and wide-leg pants. I am a huge fan of parachute pants so I opted to take a string and tie around the ankle to create my own version of that type of pants. To add a little spice and jazz, I turned this collard shirt into a one sleeve ensemble. I decided on a size 4 so that I can create this look. I am normally a size 3 (20/22) which would still give me an amazing fitted but relaxed look.
Each person gave a different a take on the same piece. From casual to night out on the town. Collaborating with stylish and amazing women is an experience. We can learn how to be stylish and confident. Be sure to check out all the amazing things happening with each of these ladies and as well a Kin by Kristine.
Click the here to purchase:
Comments
comments